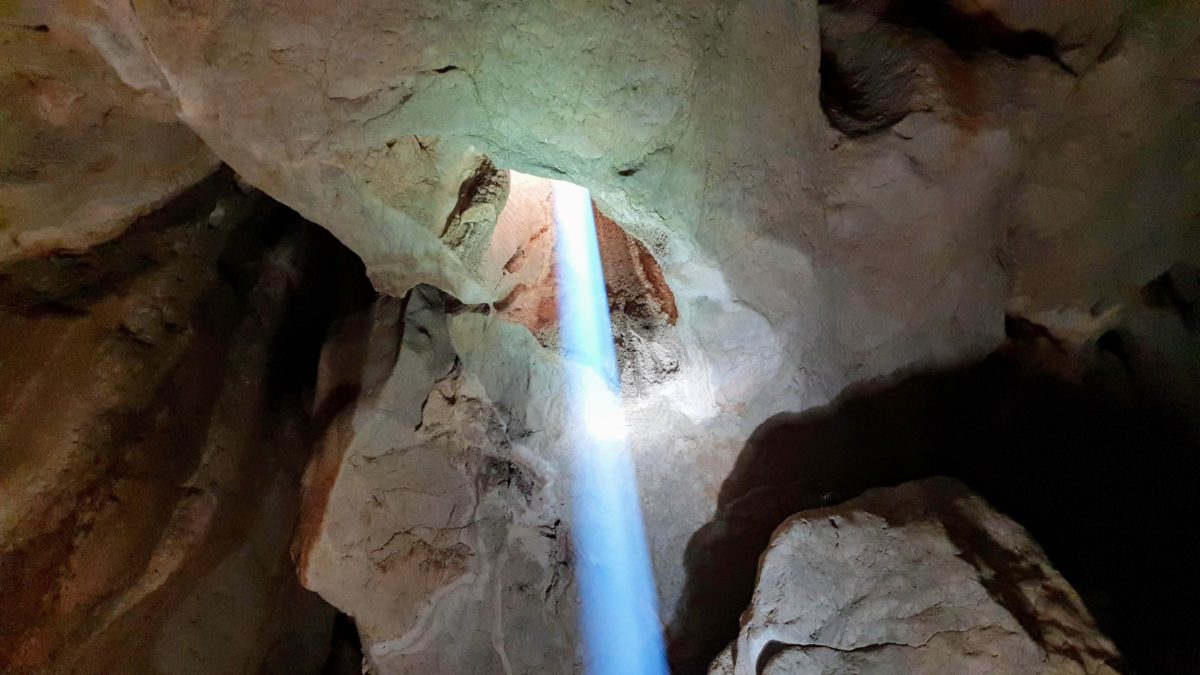 Book your Capricorn Caves tour today!
Open since its discovery in 1881, Capricorn Caves has shared its magic and splendour with people for well over 100 years. And it has never been as grand as it is right now. The Augusteyn family purchased the caves in 1988 and set out on a visionary path to sustainably transform the place into a leading attraction for tourism and education.
Today, visitors choose from a range of exciting and immersive experiences including daily wheelchair-accessible guided cave tours, wild caving adventures, abseiling, high ropes courses and team building initiatives. New environment-themed tours incorporate Queensland Museum's palaeontology dig site and marine fossil caves; a "Behind the scenes" tour specifically caters to students and tourism operators.
There is no doubt that in the million-year history of Capricorn Caves, they have never seen more excitement than in the last 25 years! When you became the new custodians of this marvel of nature, you and your family invested boundless energy and innovative spirit to bring the caves to life in all their glory. (Daniel Gschwind — Chief Executive, Queensland Tourism Industry Council, January 2014)
This boundless energy and spirit carries through each person in the 21-strong Capricorn Caves team. The guides are local, passionate and adventurous with a common goal—to give visitors a memorable experience while caring for the caves they love.
Capricorn Caves is accredited as a Savannah Guides Enterprise and Green Travel Leader in ecotourism, proving a long-term commitment to sustainable practices and top quality nature-based experiences. And with five Queensland Tourism Awards and a bronze Australian Tourism Award, this commitment is well recognised in the industry.
Can you believe the sedimentary rock of Capricorn Caves started forming under the sea?! About 390 million years ago, corals growing in shallow waters around volcanic islands started building up as limestone on the sea floor. In the tumultuous geological period that followed, this limestone bed was uplifted in a series of crustal plate collisions and volcanic eruptions.
After the limestone emerged from the sea to become land, it was exposed to acidic rain water and underground water flowing through cracks. These waters dissolved the calcite in limestone, hollowing out caves and re-depositing as decorations or speleothems.
Marine fossils of the original corals can still be seen in Capricorn Caves. These corals are the rugosa and tabulate types–not the reef-building corals of today. Crinoids (sea lilies) were abundant and stromatoporoids, sponge-like filtering organisms with hard skeletons, built up large mounds of limestone.
We never stop learning from the rocks and deposits in our exciting cave system. In 2005, a team led by Scott Hocknull from Queensland Museum excavated the guano floor in Colosseum Cave. This paleontology dig site "revealed one of the most significant bone deposits to be found in Australia". Analysis of bones and speleothems is revealing fine-scale change of fauna in the Caves region over the last 400,000 years and contributing to our knowledge of climate change.
Amazing place to visit. Our young tour guide, Katie, was an inspiration to the company she works for. The most amazing part of the tour was going into the cathedral. Took many photos as we walked through the caves. Find the time and go and see this for yourselves
Source: Capricorn Caves
---
---
Choose from a range of exciting and immersive experiences including daily wheelchair-accessible guided cave tours, wild caving adventures, abseiling and a high ropes course.
---
---
READ MORE
---