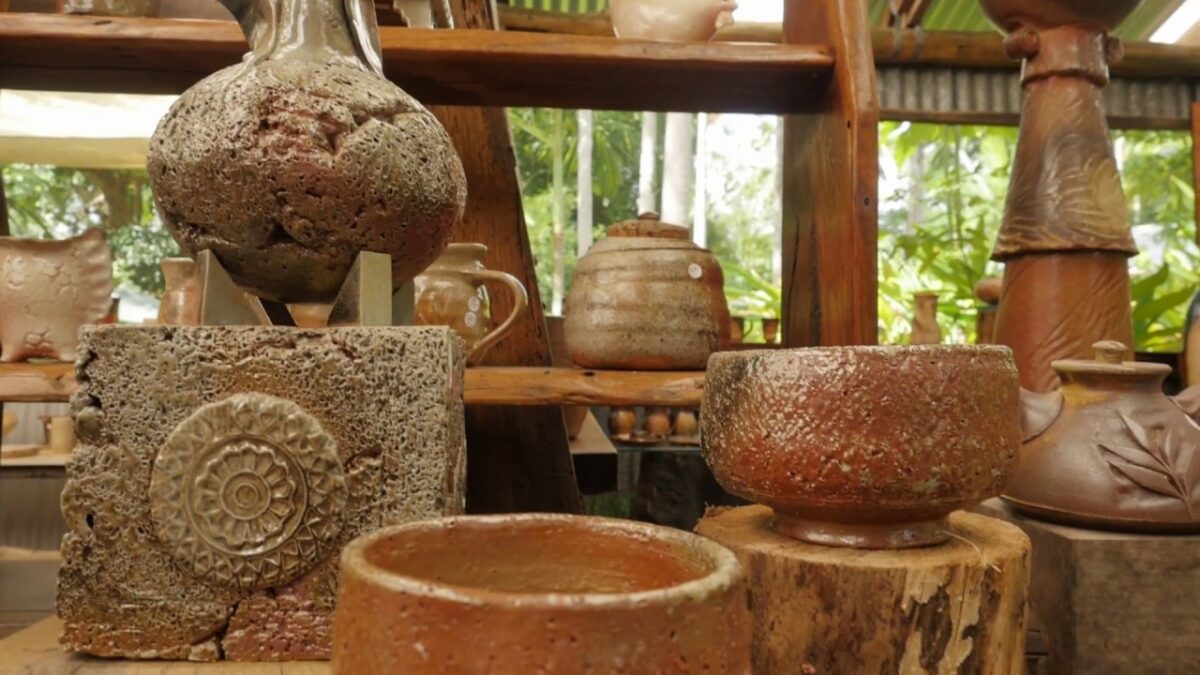 Direct from the potter's studio to your home!
Started in 1979, Nob Creek Pottery prides itself on exhibiting high quality craft and currently has the work of over 45 craftspeople and artists on show in their three large galleries.
Steve Bishopric, originally from Auckland NZ, the owner and master potter, has enjoyed making pots on the wheel for over 30 years and has work represented in State, regional and international galleries and private collections.
Sue McBurnie trained as an art teacher and taught in secondary schools for 22 years before heading to Byfield to join Steve over 15 years ago. Her specialty is slab rolled pieces and sculptural work.
Steve and Sue produce a lot of the work collaboratively. Often Steve throws the piece and Sue will carve and decorate it. Steve's son Renton is also a potter and produces work for the gallery. Steve and Sue often have visiting potters from USA Europe, Japan or other areas in Australia who live and work at the property.
Steve Bishopric and Sue McBurnie's love for pottery making and wood firing are explored during a four day traditional Anagama wood firing. Set in the lush tropical rainforest of Central Queensland you will be invited into the mysteries and technicalities of this ancient craft. The results are always unexpected and often amazing.
Nob Creek Pottery is a working studio producing fine traditional ceramics and is run by Steve Bishopric (professional potter for 35 years) and Sue McBurnie (ceramic artist and art teacher). The pottery, established in 1980, is set on 10 hectares in the heart of the Byfield Forest.
Visitors can meet the potters, see the workshops, explore the extensive galleries, picnic in the tropical gardens and enjoy the natural bush walks. You can view the rare Byfield Fern (Bowenia serrulata) in its natural habitat. This protected fern is a common motif on a wide variety of products throughout the gallery.
Nob Creek Pottery is one of the largest displays of hand made craft work in the country. The galleries feature the nationally acclaimed work of Steve and the resident potters, along with 50 exhibitors from around Australia, Vietnam and Bali. A wide range of functional pottery is available directly from the studio.
The majority of the work produced is reduction fired stoneware but Steve also specialises in wood fired and pit fired pottery. A unique range of ceramic hand basins, tiles and bathroom accessoties are produced by Steve and Sue for the world market. These are available direct from the showroom or made to order. Other artwork on display includes hand blown glass, jewellery, sculpture, paintings, lacquer ware and woodwork.
Byfield can be accessed from either Yeppoon or Rockhampton. From Yeppoon, follow the road to Byfield which is 37km (half an hour drive) north of Yeppoon, via the Mecure Resort roundabout and through the Byfield Pine Plantation. There is good signage along the way and a bitumen road right to the gallery.
Alternatively, if coming from Rockhampton take the Byfield bypass road approximately 9km before before Yeppoon. It is 42km to Byfield on this road.
Nob Creek Pottery also offers exclusive accommodation with the Byfield Mountain Retreat. This fully self contained lodge is set on 66 acres of rain forest with magnificent views over the Central Qld coast. For more information please visit www.byfieldmountainretreat.com.
Other Byfield attractions close to Nob Creek Pottery include Ferns Hideaway, the Byfield Store Bush Cafe and Waterpark Eco Tours. The Byfield National Park and State Forest Parks in the area offer excellent picnic, BBQ, swimming and camping facilities. Coaches and social groups are welcome with demonstrations and tours available with bookings.
Source: Nob Creek Pottery
---