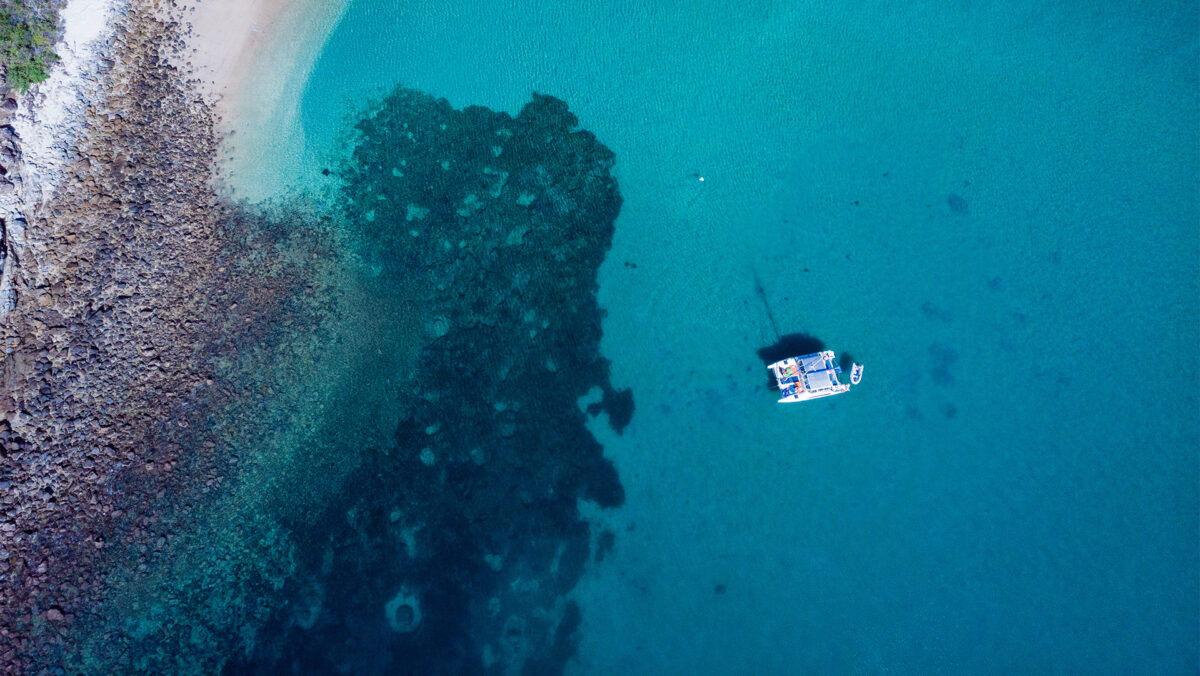 Come visit us and sail around the Keppels!
Discover Centeral Queensland Coast's beast kept secret with a cruise around the beautiful calm waters of the Keppel Islands. A visit to the Central Queensland Coast is not complete without exploring the islands of Keppel Bay. With Sail Capricornia, experience a full day of sailing, snorkeling, swimming and some modern Australian cuisine, on our Day Cruise. Or enjoy a beautiful Sunset Cruise, taking in the breathtaking splendour of the Keppels at sunset.
ABOUT SAIL CAPRICORNIA
Grace II is our beautiful purpose built catamaran. She takes her lucky crew and guests to the secluded beaches and pristine waters of the Keppel Islands. We spend a leisurely morning cruising Keppel Bay where you might see dolphins or turtles and – in season – even a whale. Then we anchor at one of our beautiful coves, where you can relax and swim or just enjoy the beautiful surroundings.
Morning/afternoon tea and a delicious buffet lunch is included, as is snorkeling equipment so you can say hello to the myriad of fish that live on our part of the southern Great Barrier Reef Marine Park.
Day Cruise
Discover Centeral Queensland Coast's beast kept secret with a full-day sailing experience, exploring the Keppels' coves, coral reefs of beautiful secluded islands and beaches. The purpose built sailing catamaran, Grace, cruises Keppel waters with a full day sail to secluded beaches, coves and coral reefs of the beautiful Keppel Islands. Grace drops anchor for lunch while her guests snorkel, beachcomb, swim or just soak up the Queensland sunshine on our family sized beanbags.
Sunset Cruise
Relax and unwind with a romantic cruise around beautiful Keppel and indulge in a glorious sunset cruise. Sail out from Keppel Bay Marina aboard Grace II for a 1.5 hour sail as the sun sets over the Capricorn Coast. When you step on board, you will be greeted with a sparkling glass of Champagne and then a delicious Mezz Deli Cheese Platter will be served while you spend time relaxing and enjoying the views.
Charters
Whether it's for a special event, birthday, hens, bridesmaid, work Christmas party or corporate gig there is no better way to celebrate than on Grace in the Keppels, Surround yourself with your favourite people in the most amazing environments in Australia. Snorkel, paddle board, relax on a floating bean bags, beach walk secluded islands, relax over the reef in crystal clear waters with a drink in hand. Or soak up a beautiful sunset over the waters of Keppel Bay during an evening cruise. We cater the Day or Evening to what you would like! Remember it's your Private Charter!
Source: Sail Capricornia
---