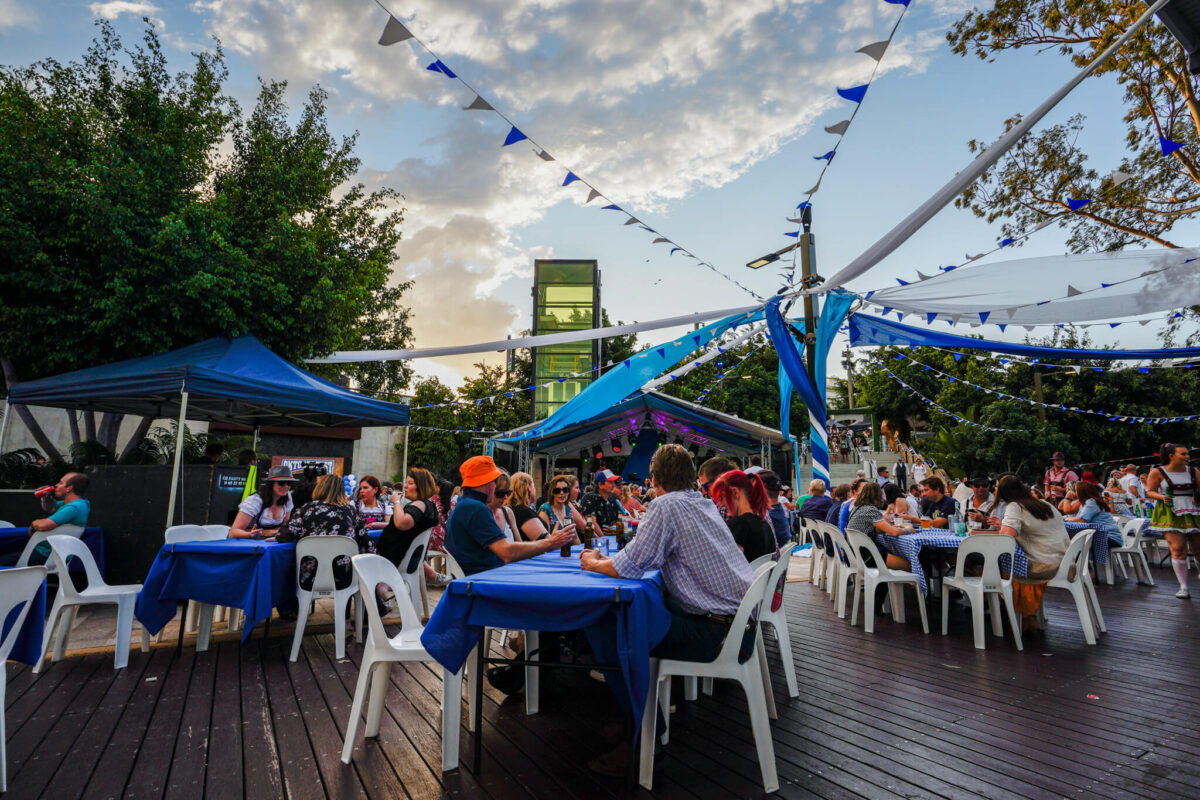 Who is Capricorn Food and Wine Inc.?
The annual Capricorn Food and Wine Festival was created back in 2012 by Stage & Audio Event Solutions to celebrate 35 years in business and as a "thank you" to the community.
Hosted by a committee of local event stars and volunteers, the Festival has since evolved into 4 annual events- Big Beer Festival, Capricorn Food and Wine Festival, Oktoberfest Rockhampton and Rocky New Years Eve. The Festivals exists to showcase the region's burgeoning hospitality and music scene, drive tourism to the region and support local producers and businesses.
What events will be happening?
Our focus is to deliver great events safely, inline with the most up to date government approved patron capacity and guidelines. CFWF will communicate as much information as possible through the Facebook page and #Capfoodie mailouts prior to the event.
Where is the Rockhampton Riverside Precinct (Festival Grounds) located?
Riverfront Precinct, Quay St, Rockhampton Q 4700 – entry out front of the Boathouse.
Where can I purchase my tickets?
Tickets are available for pre-purchase from our website capfood.com.au until sold out.
Can I buy tickets at the gate?
Due to capacity restrictions, we may have limited tickets available for sale on the day until sold out. We urge patrons to pre-purchase their tickets to events and masterclasses as they do sell out.
What does my entry cost include?
Please refer to individual event tickets for specific inclusions.
How do I pay for entry, food and drinks?
The events are entirely CASHLESS – You must have a credit or debit card with VISA or MASTERCARD logo to pay for your entry, as well as to purchase drinks and food within the events.
Where can I consume my food and drinks?
Great news for ticket holders – we will be able to stand and have a wine, beer or a bite of food, thanks to the recent lifting of restrictions in QLD. There will also be plenty of seating available throughout the Festival.
Are children allowed?
Time to book a babysitter because the events will be 18+ only. This is different from previous years due to our social distancing guidelines regarding patron capacity at the Festival. We apologise for the measures but this includes children of all ages, including babies.
What will I need to bring?
If you are over 18 and wish to partake in the wine tastings and general merrymaking, you'll need an 18+ identification card or licence. Security will wristband you prior to entry. As the Festival is entirely CASHLESS you will need a credit or debit card with a VISA or Mastercard logo to pay for entry and purchase food and beverages from our wonderful exhibitors. Although there'll be plenty of shaded areas, we do recommend hats, sunscreen and a sexy pair of sunnies to keep you sun safe.
What should I wear?
We ask for patrons to dress smart-casual and yes, this does include shoes.
Is there wheelchair access?
There are ramps and a lift for wheelchair access, as well as as suitable toilet ammentites located underneath The Boathouse.
Is there a shuttle bus to Yeppoon?
Unfortunately, we aren't able to offer any shuttle buses. There are plenty of accommodation options within Rockhampton and plenty of parking within walking distance of the Festival.
If you have any other questions please feel free to contact the organisers via the Facebook page or email info@capricornfoodandwine.com.au.
Capricorn Food and Wine Festival is committed to the the responsible service and consumption of alcohol.
Source: Capricorn Food and Wine Festival